Pàgina d'inici
>
Riese & Müller: a new premium brand in the catalog eBici.cat
Riese & Müller: a new premium brand in the catalog eBici.cat
23.06.2017 11:51
Riese & Müller: a new premium brand
in the catalog eBici.cat
The Biciclick store network includes Riese & Müller, a manufacturer of German premium electric bicycles. Dual-battery, Rohloff change, ride bikes with suspensions that would already like many (but many!) Mountain bikes, lights that will allow you to travel at night safely ... Pure delicatessen!
Riese & Müller Delite Mountain double battery
Riese & Müller is a range of original models that stand out from the rest for the highest quality of its components, a level of careful finishes and some more models.
All of its ebikes equip Bosch engines, with the particularity that the Charger, Delite and Delite Mountain models can be purchased at a double battery of 500 Wh. In this way, you can achieve autonomies that far exceed 200 km. A perfect solution for each of the two types of sores (but very long!).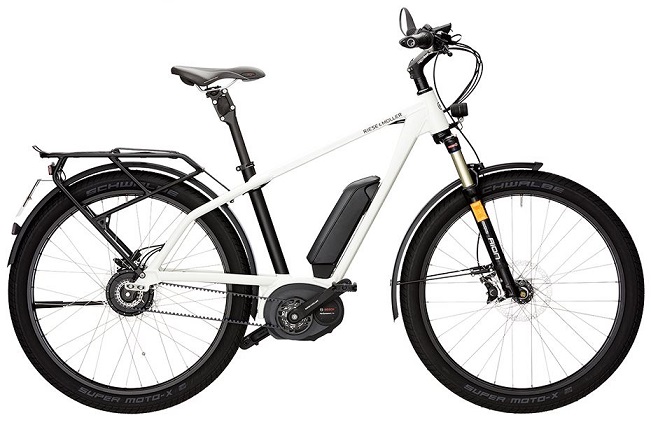 Riese & Müller Charger GT Touring HS (high speed)
Riese & Müller Nevo Touring
Riese & Müller also offers ride models (Homage, Culture, Avenue) or folding (Kendu) equipped with a double suspension system of a higher quality than those proposed by other brands for their mountain bike models, bicycles with a 20 "wheel Store it in any corner or two cargo bicycles (Load and Packster) with Bosch engine and, in the first case, with double suspension.
Other Riese & Müller originalities: most models have a high speed version (the engine pushes fins at 45 km / h), some passenger models equip the most powerful version of the Bosch engine, the CX, or with a maximum of the maximum Security, Abus Bordo Plus. I have the ability to equip the model shield with the mythical integrated change Rohloff.
Riese & Müller Swing City
To find the ebike that best suits your needs, visit the brand's website (https://www.r-m.de/fr) and choose your model. You will see that in each model there are different versions that differentiate by the type motor, change, wheels, suspensions ... Choose and now only and will choose the color, size and if you are interested in any of the options offered .
And if you have any questions, call us. We advise you.